Orphan Herd Story
Posted on Tue August 7, 2018.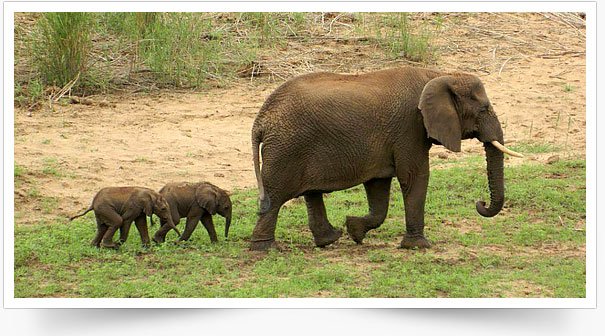 18 years ago Ken and Lois Kuhle bought a farm in the Rooirante Mountains, 15 kms away from the Pongola Game Reserve. Included in the purchase were 5 juvenile orphan elephants. They were a result of a re-introduction program from the culling days in the Kruger National Park in the early '90s.
"We were so excited to be a part of a conservation effort which included these orphans. Imagine our disappointment when we took transfer of Milimani and discovered that the elephant had gone to greener pastures," said Lois. Ingani, the resident male from Pongola Game Reserve, had been on a walk-about or 'wanderlust' in March 2000 and met up with the 5 shy and elusive orphan elephant. Soon after their first encounter the orphans walked, accompanied by Ingani, to the Pongola Game Reserve and there they stayed. They became known as the C-Family or Orphan Herd.
A lot has happened in the past 18 years. The farm that the Kuhles purchased was soon absorbed into a land claim that is now a part of the Somkhanda Game Reserve.  Lois has remained in the area and is a regular visitor to White Elephant.
"We had no intention of further traumatising the elephant and relocating them back to Milimani," continued Lois. "I am happy they settled down in the Pongola Game Reserve and made this their home."
Heike Zitzer has been researching the elephant on the reserve for over 9 years. The orphans were not accepted by the resident A&B Herd, except for a young male called Tusker. Constant  became  their  capable matriarch despite  the  fact  that  she and the other females had  been orphaned  at  a  very  young  age.  The orphan family has  grown  to  17+  individuals  who  are  accompanied  by  their  own adolescent   sons  and  on  occasion  by  other    males  of  the  Pongolapoort  elephant  population.    Two  rare  twins,  that created a lot of interest, were  born  into  the  C-Family  in  November  2014  and they are doing extremely well despite the drought cycles in the last 3 years.
Eureka Havemann, Reserve Manager, and affectionately known as the Matriarch of White Elephant, was on the reserve when the orphans arrived 18 years ago. Eureka is pictured here with Constant the Orphan Herd matriarch.
There is a move to create more space for the elephants inspired by Heinz Kohrs (Owner of White Elephant) and local conservationist, Digs Pascoe. "Space for Elephants" is a non-profit organization that intends opening up corridors for elephant and wildlife. Passion,  initiative,  education,  research  and  incorporation  of  the  surrounding  communities  are  the  key  factors  that make  up  the basis of this  foundation. For more information visit: www.spaceforelephants.com