Tree planting
Posted on Tue June 11, 2019 in
General
.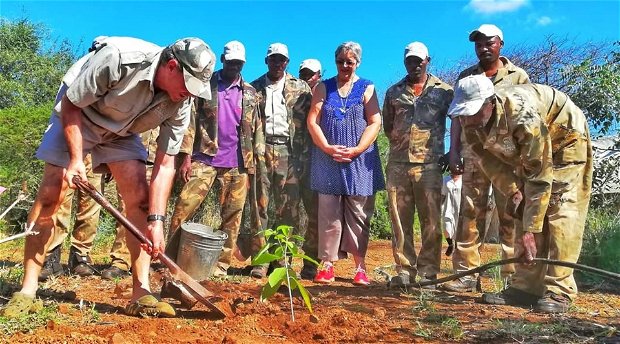 "The one who plants trees knowing that he will never sit in their shade, has at least started to understand the meaning of life" - Rabindranath Tagore
On the 11th May Heinz Kohrs and members of White Elephant Safaris held a tree planting ceremony at the newly renovated Loose Mongoose Research Centre. Last year Heinz announced their intention to expand their conservation and eco-tourism footprint. This has always been close to Heinz's heart and White Elephant Safaris has been committed to responsible travel that conserves the environment, sustaining the well-being of locals and promoting education.
White Elephant Safaris has cemented a partnership with African Insight Academy,whose determined vision is to inspire, educate and empower. The newly developed 30 bed camp is an exciting project bound to have a positive impact on the next generation of global citizens and environmental custodians. The Academy provides academic field trips and youth development programmes.
Staff members from White Elephant Safaris & African Insight Academy. planted several Red Ivory, Weeping Boerbean, Marula, Natal Mahogany and Forest Toad Trees.  The trees were purchased in Jozini from George Mpontshane Buthelezi, who owns a nursery and is well known for his wood crafting.
Tree planting ceremonies have played a major role in welcoming new chapters on the White Elephant Safari journey.  30 years ago, in the late 1980's, Heinz planted a Baobab & Wild Olive (which he was given by his uncle) at Bush Camp. This was to commemorate the conversion of the original camp, which was really 2 basic rooms, into a rustic full equipped bush camp made from reeds, stone and thatch. This exclusive self-catering facility accommodates up to 20 guests.
Around the same time the Kohrs family restored the old derelict homestead into a self-catering unit known as uMphafa. Heinz planted another Baobab & Wild Olive tree here. The house got its name from the Mphafa tree (Buffalo Thorn) that marked the spot – but this was soon knocked over by an elephant!  In 1999 the family decided to upgrade uMphafa into a 5-star lodge.  The flagship White Elephant Safari Lodge was celebrated with more trees – a Sausage Tree, Paper Bark and Pepper Bark Tree. The 8 well-appointed tented rooms embrace the solitude and peace that only the bush can offer. The main lodge's classic colonial décor, refined simplicity, deep verandas and sweeping views capture the history and romance of a bygone era, well known to the Kohrs family.