Romance at White Elephant
Posted by Bonnie on Mon July 4, 2016.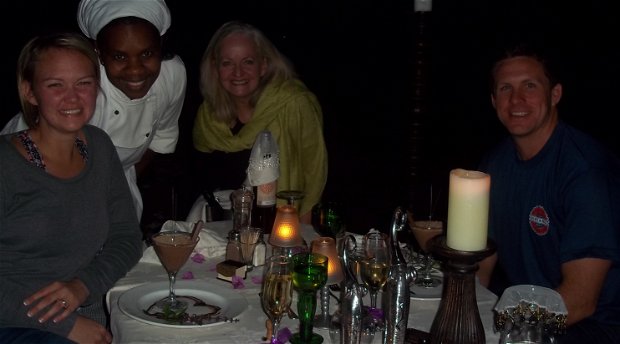 A marriage proposal in the bush must be one of the most romantic experiences for anyone.
Soon after arriving for a two night stay at White Elephant Safari Lodge, John-Louis Watt asked me to assist him in setting the scene for his proposal to Tatum Lamb. He wanted this to be the most memorable and romantic experience possible and, as a romantic myself, I was very happy to help.

A few options were mooted and we finally agreed upon a candle-lit dinner by the fire on the pool deck. George, our Head Ranger, took John and Tatum for a game drive and while they were away, our chef, Agnes, prepared their favourite food; prawn starter, lamb rack and chocolate mousse dessert.
Whilst the couple had pre-dinner drinks at their tent, we set up solar lamps all along the path, on which we scattered loads of white feathers. The dinner table was set with candles; champagne placed on ice and oversized candlesticks positioned on the edge of the deck to create a 'doorway'. With a fire crackling on the deck, the perfect romantic scene was set.
The staff arrived at the Lodge the next morning with one burning question: 'was the answer a YES?' to which I was happy to report that it was indeed a 'YES'.
When John and Tatum arrived back from their boat cruise, they were greeted by Nala (assistant Manager) playing the drums and the staff all singing wedding songs. They were presented with a congratulatory gift and then the newly engaged couple enjoyed a special breakfast on the veranda overlooking the swimming pool, Lake Jozini and the beautiful Lebombo mountains. What a special occasion for all of us.
Warmest Regards
Bonnie Kaplan